Product Description
Product Description
Hitachi ZAX330 Drive Sprocket excavator underCarriage Parts ZAX330 Sprocket wheel
| | |
| --- | --- |
| Product Name | ZAX330 Sprocket, CZPT ZAX330 Sprocket, ZAX330 Sprocket wheel, ZAX330 Drive wheel, CZPT ZAX330 drive wheel, Hitachi ZAX330 drive sprocket |
| Material | 50Mn/40MnB |
| Finish | Smooth |
| Colors | Black or yellow or customized |
| Technique | Forging, Casting, Machining, heat treatment, Assemble, Painting |
| Surface Hardness | HRC50-58. |
| Warranty Time | 2000 working hours |
| Package | Standard export strong paper box, wooden pallet, wooden crate |
Catalogue
Related Excavator Spare Parts Products
Application
BRAND/ TYPE
MACHINERY MODEL NUMBER
KOMATSU-PC
PC20
PC30-5
PC30-6
PC30-7
PC30-8
PC35
PC40
PC45
PC50
PC55
PC40-5
PC40-6
PC40-7
PC50
PC55
PC60-1
PC60-3
PC60-5
PC60-6
PC60-7
PC75
PC100-1
PC100-3
PC100-5
PC100-6
PC100-7
PC120-3
PC120-5
PC120-6
PC120-7
PC150
PC200-1
PC200-3
PC200-5
PC200-6
PC200-7
PC200-8
PC220-1
PC220-3
PC220-5
PC220-6
PC220-7
PC220-8
PC200LC-3
PC200LC-5
PC200LC-6
PC200LC-7
PC200LC-8
PC240
PC300-1
PC300-5
PC300-6
PC300-7
PC300LC
PC300LC-5
PC300LC-6
PC300LC-7
PC360-5
PC360-6
PC360-7
PC360LC-5
PC360LC-6
PC360LC-7
PC360LC-8
PC400-1
PC400-3
PC400-5
PC400-6
PC400-7
PC400LC-1
PC400LC-3
PC400LC-5
PC400LC-6
PC400LC-7
PC450-5
PC450-6
PC450-7
PC450LC-5
PC450LC-6
PC450LC-7
PC650
PC750
PC800
PC350
 
 
 
 
KOMATSU-D
D20
D31
D37EX-21
D40
D41P-6
D41E-6
D50
D53
D51EX-22
D60
D65
D65-12
D61EX-12
D65EX-12
D65PX-12
D80
D85
D85EX-15
D85-21
D155
D155A-1
D155A-2
D155A-3
D155A-5
D155-6
D275
D355A-3
D375-5
 
 
 
 
 
 
 
 
 
 
 
 
 
CATERPILLAR-CAT-E-B-C/D
E200B
E200-5
E320D
E215
E320DL
E324D
E324DL
E329DL
E300L
E320S
E320
E320DL
E240
E120-1
E311
E312B
E320BL
E345
E324
E140
E300B
E330C
E120
E70
E322C
E322B
E325
E325L
E330
E450
E55
E70B
E120B
E312
CAT55
CAT225
CAT311
CAT312
CAT312B
CAT315
CAT320
CAT320C
CAT320BL
CAT330
CAT322
CAT245
CAT325
CAT320L
CAT973
CAT345
CAT345B
CAT320D
CAT330B
CAT330BL
CAT330C
CAT330D
CAT325B
CAT325BL
CAT345B
 
 
 
 
 
CATERPILLAR-D
D3C
D4
D4D
D4E
D4H
D5
D5B
D5C
D5H
D5M
D5N
D6
D6C
D6D
D6R
D6H
D6T
D7G
D7R
D7H
D8N
D8L
D8T
D8R
D8H
D8K
D9L
D9N
D9R
D9T
D10N
D10R
D10T
D11N
D11R
 
 
 
 
 
HITACHI-EX
EX30
EX40
EX55
EX60
EX60-2
EX60-3
EX60-5
EX70
EX75
EX100
EX100-3
EX100-5
EX120
EX120-1
EX120-3
EX120-5
EX130-1
EX200-1
EX200-2
EX200-3
EX200-5
EX220-3
EX220-5
EX270
EX300
EX300-1
EX300-2
EX300-3
EX300-5
EX300A
EX330
EX370
EX400-1
EX400-2
EX400-3
EX400-5
EX200LC-1
EX200LC-2
EX200LC-3
EX200LC-5
EX270-1
EX270-2
EX270-5
EX270LC-1
EX270LC-2
EX270LC-5
EX300LC-1
EX300LC-2
EX300LC-3
EX300LC-5
EX400LC-1
EX400LC-2
EX400LC-3
EX400LC-5
EX450
EX450-1
EX450-2
EX450-3
EX450-5
EX450LC-1
EX450LC-2
EX450LC-3
EX450LC-5
UH07-7
ZAX30
ZAX55
ZAX200
ZAX200-2
ZAX330
ZAX450-1
ZAX450-3
ZAX450-5
UH043
UH052
UH053
UH07
UH081
UH082
UH083
 
ZAXIS-ZAX-ZX
ZAX55
ZAX70
ZAX120
ZAX200
ZAX210
ZAX230
ZAX240
ZAX330
 
ZAX450
ZAXIS 110
ZAXIS 120
ZAXIS 60
ZAXIS 200-3
ZAXIS 200-6
ZAXIS 240
ZAXIS 270
 
ZAXIS 330
ZAXIS 360
ZAXIS 450
ZAXIS 870
 
 
 
 
VOLVO-EC
VOLVO55 (EC55)
VOLVO140 (EC140)
VOLVO210 (EC210)
VOLVO240 (EC240)
VOLVO290 (EC290)
VOLVO360 (EC360)
VOLVO460 (EC460)
VOLVO460
(EC700)
DAEWOO-DH DOOSAN-DX
DH55
DH60
DH80
DH130
DH150
DH200
DH220
DH258
DH280
DH300
DH320
DH360
DH370
DH400
DH420
DH500
DX300
DX370
DX380
 
 
 
 
 
KOBELCO-SK
SK35
SK55
SK60-1
SK60-2
SK60-5
SK100
SK120
SK130-8
SK200-3
SK200-5
SK200-8
SK210
SK230
SK250
SK300
SK320
SK330
SK350
SK07N2
 
 
 
 
 
SUMITOMO-SH-LS
SH35
SH55
SH60
SH65
SH75
SH100
SH120
SH120A3
SH200
SH220
SH265
SH280
SH300
SH320
SH340
SH350
SH430
LS2800
 
 
 
 
 
 
SANY-SY
SY65
SY90
SY130
SY200
SY215
SY330
SY335
SY365
KATO-HD
HD250
HD400
HD450
HD700
HD770
HD820
HD1571
HD1250
HD1430
HD800
HD1100
 
 
 
 
 
HYUNDAI-R
R55
R60
R80
R130-5
R130-7
R150
R150LC-7
R200
R200-5
R210
R210-3
R210-7
R215-7
R220-5
R220-5
R225-7
R260-5
R265
R275
R290
R300
R300-5
R305
R320
 
R360
R385
R420
R450-3
R450-5
 
 
 
SUNWARD-SWE
SWE35
SWE40
SWE50
SWE55
SWE60
SWE70
SWE85
SWE330
YUCHAI-YC
YC35
YC45
YC60
YC85
YC135
 
 
 
Kubota-KX
KX35
KX50
KX55
KX80
KX85
KX135
KX155
KX185
LIEBHERR-R
R914
R916
R924
R926
R934C
R944C
R954
R964/ R974
LIUGONG -LG
LIUGONG150 (LG150)
LIUGONG200(LG200)
LIUGONG220 (LG220)
LIUGONG907 (LG907)
LIUGONG914 (LG914)
LIUGONG925 (LG925)
LIUGONG936 (LG936)
 
CASE-CX
CX35
CX45
CX55
CX75
CX135
CX240
CX360
 
LONKING-
LONKING60
LONKING65
LONKING85
 
IHISCE-IHI
IHI35
IHI80
IHI85
YANMAR-VIO
VIO30
VIO40
VIO55
VIO75
 
TAKEUCHI-TB
TB150
TB175
FUTON LOVOL-FR
FR65
FR85
 
 
 
 
 
 
MITSUBISHI
MS110
MS120
MS180
MS230
MS280
 
 
 
Here are the more machinery models, please kindly contact us freely if any enquiry.
Production process
Company Profile
About us:
FAQ
Q: What main products do you supply?
A: Track roller/Carrier roller/ Sprocket/ Segment/ Front idler/ Track shoe/ track chain/ Bolt/ Nut/ Pin/ Bushing/ Seal and gasket/ Filter/ Bucket teeth/ Bucket/ adaptor and other spare parts.
Q: How is your quality?
A: OEM Quality: all products size following OEM strictly. The quality is absolutely guaranteed,
if there are problems related to quality, please tell us, we will do our best to make you satisfied.
Q: What is your delivery time?
A: Generally, If we have your required items in stock, delivery time 7-10 days.
Or if your required items out of stock, delivery time need about 15days.
The actual delivery time depends on the items and the quantity of your order.
Q: What is your sample policy?
A: We accept a trial sample order if ready parts in stock.
You are welcome to send us samples or spec. Drawing. We can build new mould and produce products accordingly.
Q: How to make payment?
A: We accept multiple payment methods: Bank transfer T/T, Paypal, L/C at sight and so on.
Payment=3000USD, 30% T/T in advance , the balance before shipment.
Q: How to track the goods if order shipped?
A: We will inform you the shipping information after your order is sent out.
Express shipment: we will send you express tracking number.
Air shipment: we will send you AWB, Packing list and Commercial invoice and other necessary documents.
Sea shipment: we will send you BL, Packing list and Commercial invoice and other necessary documents.
Q: Which countries have you ever exported to?
A: Our products have been exported to more than 60 countries such as USA, UK, Germany, Russia, UAE, Indonesia, Malaysia, Thailand, Sri Lanka, INDIA, Pakistan, Bangladesh, South Africa, Colombia, Peru and etc.
| | |
| --- | --- |
| After-sales Service: | Technical Support |
| Warranty: | 6-12months |
| Type: | Drive Sprocket |
| Application: | Excavator |
| Certification: | ISO9001: 2000 |
| Condition: | New |
Samples:

US$ 30/Piece

1 Piece(Min.Order)

|
Request Sample
Customization:

Available

|

Customized Request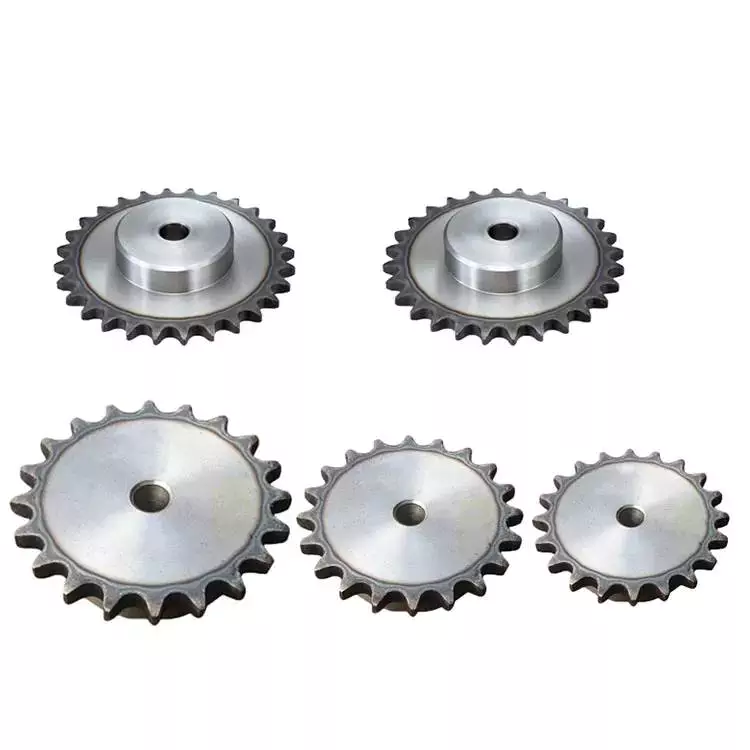 How to Use Sprocket for Conversion Optimization
The sprocket is usually attached to the shaft with one or more set screws. These set screws are usually ANSI standard sizes. However, these standards are not always suitable for all applications. Therefore, it is important to find a supplier who understands the correct keyway size for a specific application.
Typical sprocket
Typical sprocket hardnesses range from 35 to 40 HRC, depending on the application. However, some applications require lower hardness levels. The hardness level is determined by the material used to manufacture the sprocket. Further tempering can further reduce the hardness level. For example, conveyor sprockets with long pitch line thicknesses may not require hardening.
Steel is the most commonly used material for standard sprockets. However, many types of materials can also be used. The material used to make the sprocket depends largely on the type of equipment and tools used to make the sprocket. Steel is the most common building material because of its versatility and hardness and its use in a variety of applications. Bronze is another common material used for sprockets, usually in non-magnetic environments.
Another common material used for sprockets is reinforced plastic. While sprockets may look similar to gears, the main difference is their teeth and their ability to interlock with the chain. This allows simple rotational movement of large equipment and machinery.
The number of teeth on the sprocket is measured according to the number specified by the standard. An example is the ISO-DIN standard. A typical sprocket has an odd number of teeth to prevent the teeth from wearing out and causing the chain to slip.
A typical sprocket has rollers on the bottom and teeth on the top. When the chain meshes with the sprockets, the rollers get caught on the teeth. The rollers then pull the strap back, removing the extra force. However, if the bottom half of the chain is slack, the rollers will sit on the teeth and the chain will jump forward one tooth.
Function
Sprocket is an important feature for optimizing the user experience of your website. It works by analyzing user behavior on your website and delivering personalized interactions at the right time. This feature can also help you increase the conversion rate of your website. In this article, we'll explore how to use Sprocket for conversion optimization.
The easiest way to explain the function of a chainring is to imagine a bicycle. The large sprocket is mounted on the pedal axle of the bike, and it drives the chain, which in turn drives the small sprocket on the rear wheel. The same principle is used for motorcycles and some other motor vehicles.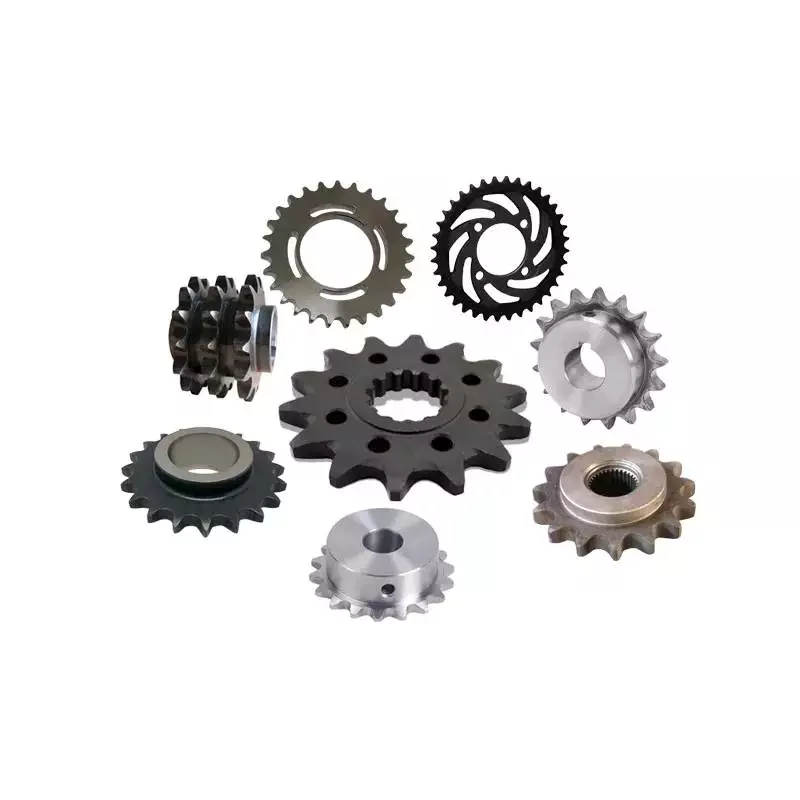 element
Sprocket assemblies are wheel-shaped assemblies that hold gears and other components in place. They allow precise rotation of large gears. They can be made of metal or reinforced plastic. Different designs are available to suit different applications. Here are some examples. Sprockets are used for heavy duty rollers.
The components 12 and 14 slide together in the axial direction relative to the drive shaft 18 . The protrusions 22 on one part fit into complementary shaped grooves on the other part. Usually, the two parts are the same, but they can be different. For example, jigsaw-shaped protrusions may fit into grooves in opposing portions.
Sprocket components are usually made of metal or reinforced plastic. They resemble gears due to their wheel-shaped design and teeth. However, sprockets interact with different types of chains. Most sprocket chain systems operate similarly to bicycle chain assemblies. To ensure proper performance, choose the correct one for your specific application.
Whether you're buying sprockets for an electric car, bike, or construction project, make sure you choose the right sprocket. Sprockets are versatile. A single sprocket may have one or two teeth, while a triple sprocket may have two or more.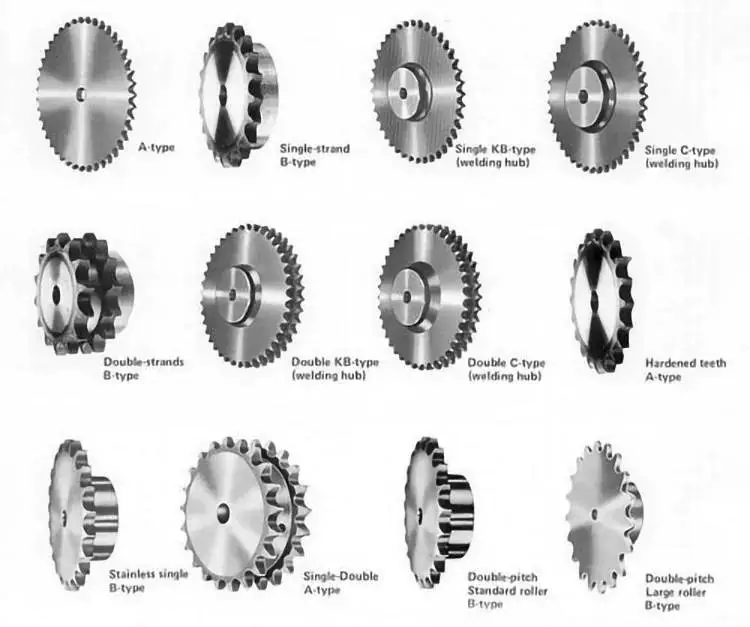 Put on
Proper maintenance of your bicycle's chain and sprockets is critical to the performance and safety of your bicycle. These components wear out over time and should be replaced in the correct order. A well-maintained bike can go from 20,000 to 30,000 miles on one set of components. Mileage depends on the quality of the chain and sprockets and the type of riding style. For your safety and the performance of your bike, it is recommended to replace these components every few thousand miles.
Identifying a worn sprocket is easy; you can easily notice when a sprocket's teeth are cut off. A badly worn sprocket will be unusable and your chain will end up stuck between the teeth. If the chain is damaged by worn sprockets, you should replace the chain.
When a chain or sprocket needs to be replaced, it is important to ensure that the sprocket is properly lubricated. Oiling will make the chain and sprocket more efficient and reduce the risk of damage. A good rule of thumb is to use anti-rust oil to protect your bike from corrosion.
In order to maintain the sprocket, you should follow the manufacturer's maintenance instructions. You must replace them in the correct order. The first step is to remove the old sprocket and discard it. Old sprockets cannot be mixed with new sprockets.
It is also important to replace the front and rear sprockets when returning the chain. You should also lubricate the chain to prevent rust. Before lubricating, you can clean the chain with a non-petroleum-based cleaner. Don't use oil as it doesn't protect the chain from water and is more viscous.



editor by CX 2023-07-13