Product Description
Product Description
Sprocket:
1. Material: C45 & Cast Iron 304 stainless steel
2. Supply standard and non standard sprockets according to European and American Standard & Drawing
3. Superior quality & Competitive price & Prompt delivery
 
Product Attribute
Product name 
Sprocket
 
Surface Treatment
Annealing, natural anodization, heat treatment,  polishing, nickel plating, chrome plating, znic plating,Black surface painted etc.
 
Products Available
Transmission machinery such as mining machinery, agricultural machinery, engineering machinery, forestry machinery, petrochemical industry, automatic assembly lines, etc
 
material
carbon steel,stainless steel, alloy steel
 
Certificate
ISO,SGS,DIN,JIS
 
product type
European Standard American Standard
 
Port
Any sea port or airport in China
 
Brand
TV OEM
 
Payment
L/C, T/T, D/P, Western Union
 
Package
Chain, Plastic Bag, Color Box, Wooden Case. or OEM
 
European standard 
03A-1 04A-1 05A-1-2 06A-1-2-3 081A-1 083A-1/084A-1 085A-1 086A-1

08A-1-2-3 10A-1-2-3 12A-1-2-3 16A-1-2-3 20A-1-2-3 24A-1-2-3

28A-1-2-3 32A-1-2-3
 

03B-1 04B-1 05B-1-2 06B-1-2-3 081B-1 083B-1/084B-1 085B-1 086B-1

08B-1-2-3 10B-1-2-3 12B-1-2-3 16B-1-2-3 20B-1-2-3 24B-1-2-3

28B-1-2-3 32B-1-2-3
 

American standard 
25,35,41,40,50,60,80,100,120,140,160,180,200,240

35-2,40-2,50-2,60-2,80-2,100-2,120-2,140-2,160-2,200-2

35-3 ,40-3 ,50-3 ,60-3 ,80-3, 100-3,120-3
 

We also carry out OEM according to your requirements
 
Detailed Photos
Product Parameters
Our Advantages
Company advantages:
Own Import & Export License, The TV trade mark registered successfully in many countries, Sales network spread all over China, Products export to 65 countries in 5 continents.
Membership:
1. The member of China General Machine Components Industry Association.
2. The member of China Chain Transmission Association.
3. The member of China Chain Standardization Association.
4. The member of China Agricultural Association Machinery Manufacturers.
With our excellent trained staffs and workers, advanced and efficient equipments, completely sales network, strict QA systems. You are confidence that our premium qualified chain can meet all customers' specification and strictest quality standards.
Factory Display
Comprehensive Product Portfolio We produce and supply a wide range of power transmission
products including drive chains, leaf chains, conveyor chains, agricultural chains, sprockets, and
couplings. This one-store-for-all shopping experience will significantly reduce your searching costs while
guarantee youfind what you want at 1 click.
Value Choice Products Our products are the best combination of quality and price, and you get what
you want within your budgets
Seasoned Sales Associates and Engineers We have 15 seasoned sales associates and 5 engineers;
on our team at your disposal any time when you need a helping hand. They are well trained with industry
know-now and will always respond to your requests within 24 hours.
100% Customer Retention Rate Our regular customers from overseas come back not just for our
premium quality products, but for the superior services that we've provided over the years.
 
FAQ
Q1: What's your average lead time?
A: It varies. Our regular end-to-end lead time is 1-2 months.. We also provide express shipments for rush orders. For details,please consult our sales associate.

Q2: Is your price better than your competitors given the same quality?
A: Definitely YES. We provide the most competitive price in the power transmission industry. If price disparity exists, we'll be more than happy to do a price match.
Q3: Can you make chains according to my CAD drawings?
A: Yes. Besides the regular standard chains, we produce non-standard and custom-design products to meet the specific technical requirements. In reality, a sizable portion of our production capacity is assigned to make non-standard products.

Q4: Can we inspect the goods before shipment?
A: Yes. You or your representative or any third-party inspection party assigned is allowed access to our facility and do the inspection.

Q5: What kind of payment method is acceptable for your mill?
A: We're flexible. We take T/T, L/C, or any other online payment methods so long as it's applicable for you.

Q6: What if I have any other questions?
A: Whenever in doubt, you're always encouraged to consult our sales associate any time – They will help you to your satisfaction.
 
Shipping Cost:

Estimated freight per unit.





To be negotiated
| | |
| --- | --- |
| Standard Or Nonstandard: | Standard |
| Application: | Machinery |
| Hardness: | Hardened Tooth Surface |
Samples:

US$ 10/Piece

1 Piece(Min.Order)

|

Order Sample
Customization:

Available

|

Customized Request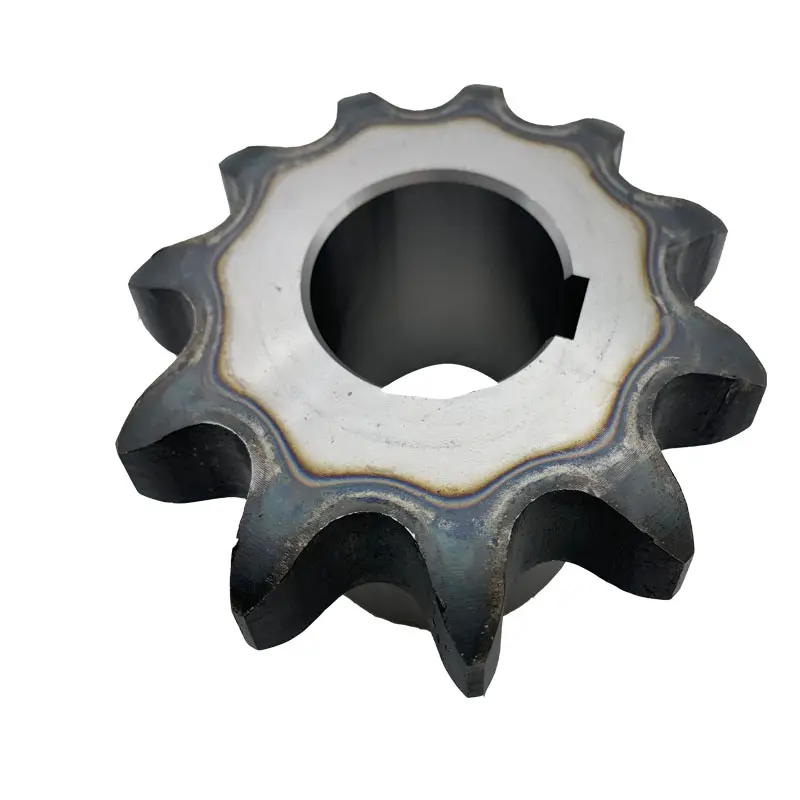 Alternatives to Chain Sprockets in wheel sprocket Configuration
While chain sprockets are commonly used in wheel sprocket configurations, there are alternative methods for power transmission in various applications:
Gear and Gear Rack: Gears are toothed wheels that mesh with each other to transmit power. Instead of using a chain and sprocket, gears can directly engage with each other, offering a smooth and efficient power transfer. Gear racks, which are linear gears, can be used in place of wheels for linear motion applications.
Belt and Pulley: Belts and pulleys offer a flexible and quiet means of power transmission. They work similarly to chain and sprocket systems but use belts instead of chains. Pulleys have grooves that grip the belt, allowing power to be transferred between the pulleys.
Gear Train: A gear train consists of multiple gears meshed together to achieve specific speed and torque ratios. Gear trains are often used in complex machinery and mechanical systems where precise power transmission is required.
Direct Drive: In some applications, direct drive mechanisms can be used, where the motor or power source is directly connected to the wheel or load without any intermediate components like sprockets or gears.
Friction Drive: Friction drive systems use the friction between two surfaces to transfer power. One surface, such as a rubber wheel, is pressed against another surface to achieve power transmission.
The choice of alternative power transmission methods depends on various factors, including the application requirements, available space, speed, torque, and efficiency considerations. Each alternative method has its advantages and limitations, and the selection should be based on the specific needs of the mechanical system.
When considering alternatives to chain sprockets, it is essential to analyze the requirements of your application and consult with engineering experts or manufacturers to determine the most suitable method of power transmission for optimal performance and longevity.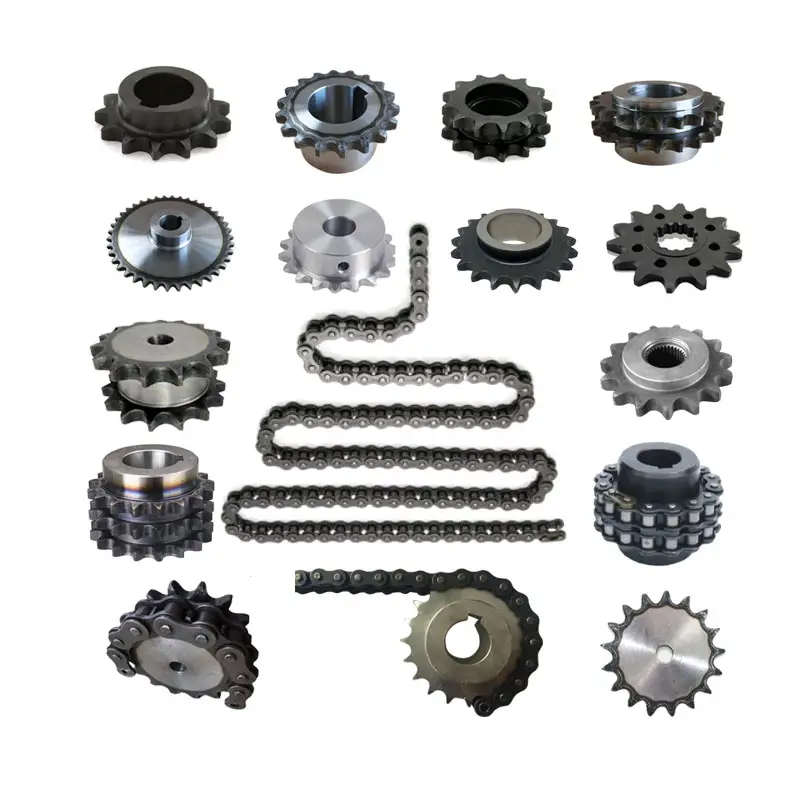 Noise and Vibration in wheel sprocket Configurations
In a wheel sprocket configuration, noise and vibration levels can vary depending on several factors:
Quality of Components: The quality of the wheel sprocket components can significantly impact noise and vibration. Well-manufactured and precisely engineered components tend to produce less noise and vibration.
Lubrication: Proper lubrication of the sprocket teeth and chain or belt can reduce friction, which in turn helps minimize noise and vibration.
Alignment: Correct alignment between the wheel sprocket is crucial. Misalignment can lead to increased noise and vibration as the components may not mesh smoothly.
Tension: Maintaining the appropriate tension in the chain or belt is essential. Insufficient tension can cause the chain to slap against the sprocket teeth, resulting in noise and vibration.
Speed and Load: Higher speeds and heavier loads can lead to increased noise and vibration levels in the system.
Wear and Damage: Worn-out or damaged components can create irregularities in motion, leading to increased noise and vibration.
To reduce noise and vibration in a wheel sprocket setup:
Use high-quality components from reputable suppliers.
Ensure proper lubrication with appropriate lubricants.
Regularly inspect and maintain the system to detect any misalignment, wear, or damage.
Follow manufacturer guidelines for chain or belt tensioning.
Consider using vibration-damping materials or mounting methods if necessary.
Minimizing noise and vibration not only improves the comfort and safety of the machinery but also extends the life of the components by reducing wear and fatigue.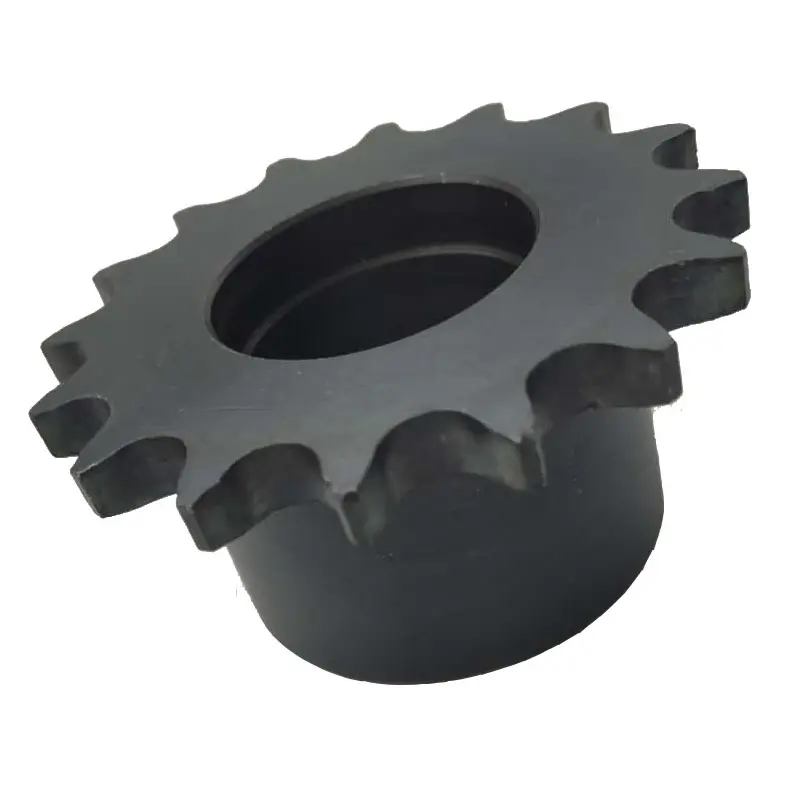 Role of a wheel sprocket in a Mechanical System
In a mechanical system, a wheel sprocket play a crucial role in transferring motion and power from one component to another. They are essential elements of various machines and mechanisms, such as bicycles, conveyor systems, automobiles, and industrial machinery. Let's explore their functions in more detail:
1. Wheel:
The wheel is a circular component with a central shaft (axle) that allows it to rotate freely around the axle's axis. Its primary functions include:
Motion Transmission: When a force is applied to the wheel's outer edge, it rotates around the axle, enabling the transfer of linear motion into rotational motion.
Load Bearing: The wheel's structure and material are designed to support and distribute the load placed on it, allowing smooth movement over various surfaces.
Reduction of Friction: By using wheels, the friction between the moving object and the ground is significantly reduced, making it easier to move heavy loads with less effort.
Directional Control: Wheels can be attached to steering mechanisms to control the direction of movement in vehicles and other equipment.
2. Sprocket:
A sprocket is a toothed wheel designed to mesh with a chain or a belt, facilitating motion transfer between the sprocket and the chain/belt. Its key functions include:
Power Transmission: When rotational force (torque) is applied to the sprocket, the teeth engage with the links of the chain or belt, transferring motion and power from one sprocket to another.
Speed and Torque Conversion: Different-sized sprockets can be used to adjust the speed and torque of the driven component in a mechanical system.
Positive Drive: The teeth on the sprocket and the links on the chain/belt create a positive drive system, reducing the likelihood of slippage or loss of power during operation.
Chain/Belt Tensioning: Sprockets help maintain proper tension in the chain or belt, ensuring optimal performance and longevity of the power transmission system.
Together, wheels and sprockets form a vital part of mechanical systems, enabling efficient motion transmission, power transfer, and control in a wide range of applications across various industries.



editor by CX 2023-09-01