Product Description
Business type

Manufacturer & Exporter

Main export market

Europe, North and South America, Southeast Asia, Oceania, Middle East, Africa

Material

Alloy Steel, Carbon Steel, Stainless Steel,Aluminum, Copper, Brass

Manufacturing method

Forged and then machined, hobbed, if need can also weld

Heat treatment

Hardening and Tempering, High Frequency Quenching, Carburizing Quenching

Surface treatment

Oxide black, Galvanized, Nickel plated, Chrome plated,Painted and so on

Model

ANSI: 25/35/41/40/50/60/80/100/120/140/160/180/200/240

DIN/ISO:04C/06C/085/08A/10A/12A/16A/20A/24A/28A/32A/36A/40A/48A

DIN/ISO:04B/05B/06B/08B/10B/12B/16B/20B/24B/28B/32B/36B/40B/48B

Process

Forging, Hobbing, Precision machining

Teeth

8T-100T

Type

Type A sprockets :Plate (without Hub)

Type B sprockets:One side with hub

Type C sprockets: Double side with hub

Finished bore sprockets:With the inner hole ,keyway and screw
1.Fast delivery: Standard products can be delivered in as fast as 20 days
2.Good service: timely reply, prompt quotation, responsible for the product
3.High cost performance: can maintain price stability for a certain period of time, bringing greater profits to customers
4.Good quality: production and testing have corresponding supervision to ensure product quality and get high praise from customers
5.OEM service: products can be customized according to drawings and requirements
We are responsible for the ordered products. We are very confident in the products we produce. Of course, if you have any problems after receiving the goods, you can contact us directly. We will confirm and negotiate in time to solve your difficulties.
Shipping Cost:

Estimated freight per unit.





To be negotiated
| | |
| --- | --- |
| Standard Or Nonstandard: | Standard |
| Application: | Motor, Motorcycle, Machinery, Agricultural Machinery |
| Hardness: | Hardened Tooth Surface |
Samples:

US$ 35/kg

1 kg(Min.Order)

|

Order Sample
Customization:

Available

|

Customized Request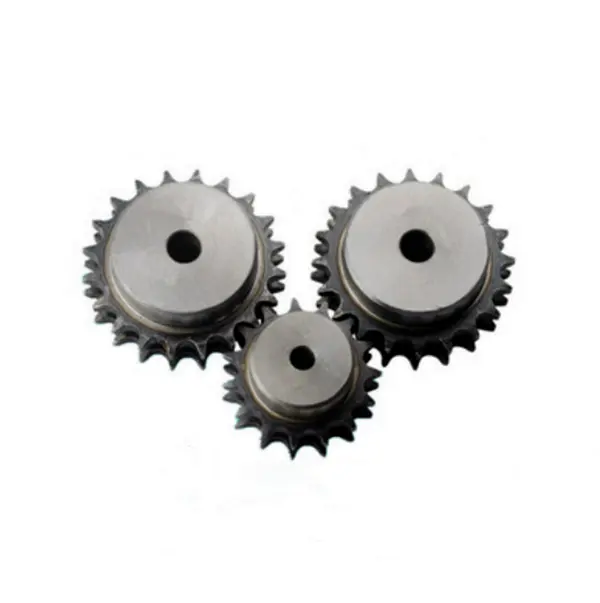 Ensuring Proper Alignment between a Wheel and its Corresponding Sprocket
Proper alignment between a wheel and its corresponding sprocket is crucial for the smooth and efficient operation of the wheel sprocket system. Misalignment can lead to increased wear, noise, and reduced performance. Here are some steps to ensure proper alignment:
Use Precision Components: Ensure that both the wheel sprocket are high-quality, precision-manufactured components that meet the required specifications. Using well-machined components will aid in achieving better alignment.
Check Axle Alignment: Make sure the axle or shaft on which the wheel sprocket are mounted is straight and properly aligned. Any misalignment in the axle can lead to misalignment of the wheel sprocket.
Proper Mounting: Ensure that the wheel sprocket are securely and correctly mounted on the axle or shaft. Use appropriate fasteners and tightening techniques to prevent any movement or shifting during operation.
Check for Parallelism: The axes of the wheel sprocket should be parallel to each other. Measure the distance between the axes at multiple points to verify parallel alignment.
Use Alignment Tools: Alignment tools, such as laser alignment systems, can be employed to accurately align the wheel sprocket. These tools can help identify and correct misalignments effectively.
Check Tension and Tensioner Alignment: If a tensioner is used in the system, ensure that it is properly aligned and applying the right tension to the chain or belt. Incorrect tension can cause misalignment.
Regular Maintenance: Implement a regular maintenance schedule to check and adjust alignment as needed. Regular inspections can help identify and address alignment issues before they cause significant problems.
Monitor Performance: Keep an eye on the performance of the wheel sprocket system. Unusual noises, vibrations, or signs of wear can indicate misalignment and should be investigated promptly.
Proper alignment is essential for the long-term performance and reliability of the wheel sprocket system. By following these steps and conducting regular maintenance, you can ensure that the wheel sprocket work together harmoniously, providing efficient power transmission and minimizing wear and tear.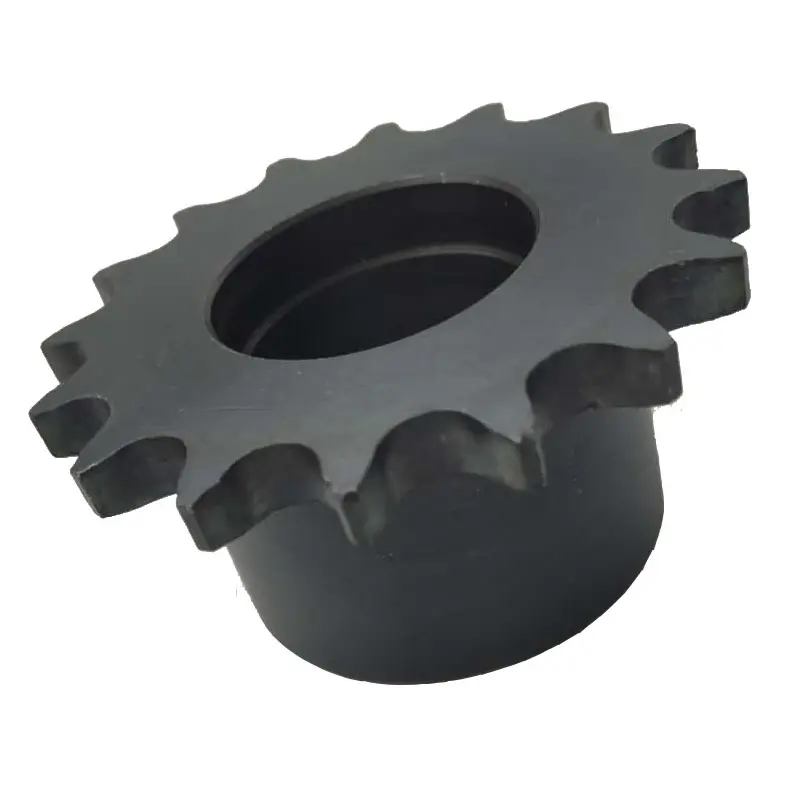 Using wheel sprocket Assembly in Robotics and Automation
Yes, wheel sprocket assemblies are commonly used in robotics and automation systems to transmit power and facilitate movement. These systems offer several advantages for robotic applications:
Efficiency: wheel sprocket assemblies provide efficient power transmission, ensuring smooth and precise movement of robotic components.
Compact Design: The compact nature of sprockets and wheels allows for space-saving designs, making them ideal for robotic applications where space is limited.
Precision: Sprockets and wheels with accurate teeth profiles provide precise motion control, crucial for robotics and automation tasks that require high levels of accuracy.
Low Noise: Properly lubricated and maintained wheel sprocket systems generate minimal noise during operation, contributing to quieter robotic movements.
Customizability: wheel sprocket assemblies can be customized to suit specific robotic requirements, such as different gear ratios, sizes, and materials.
Multiple Configurations: Depending on the robotic application, different configurations like single or multiple sprockets, idler sprockets, or rack and pinion systems can be used.
High Load Capacity: Sprockets made from durable materials like steel can handle substantial loads, making them suitable for heavy-duty robotic tasks.
Examples of robotics and automation systems that commonly use wheel sprocket assemblies include:
Robotic Arms: wheel sprocket systems are utilized in robotic arms to control their movement and reach.
Automated Guided Vehicles (AGVs): AGVs use wheel sprocket assemblies for propulsion and steering, enabling them to navigate autonomously.
Conveyor Systems: In automated factories, conveyor belts are often driven by sprockets and wheels for efficient material handling.
Mobile Robots: Wheeled mobile robots use wheel sprocket assemblies to drive their wheels, enabling them to move in various directions.
Robot Grippers: wheel sprocket mechanisms can be integrated into robot grippers to facilitate gripping and handling objects.
The choice to use wheel sprocket assemblies in robotics and automation depends on the specific application requirements, load capacity, precision, and environmental conditions. By selecting the appropriate sprockets, wheels, and materials, engineers can ensure reliable and efficient robotic performance in a wide range of automated tasks.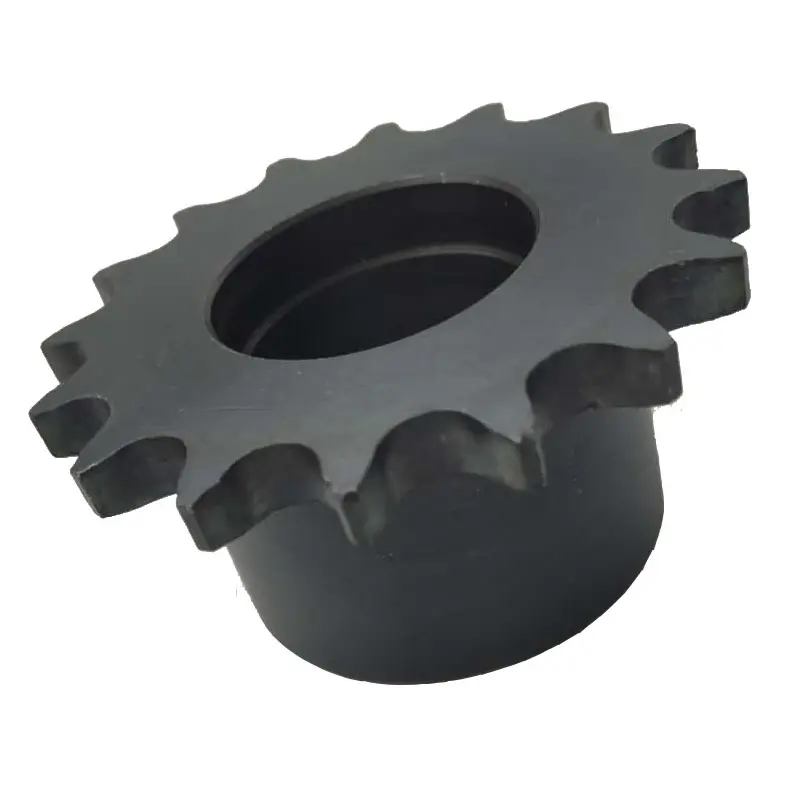 Role of a wheel sprocket in a Mechanical System
In a mechanical system, a wheel sprocket play a crucial role in transferring motion and power from one component to another. They are essential elements of various machines and mechanisms, such as bicycles, conveyor systems, automobiles, and industrial machinery. Let's explore their functions in more detail:
1. Wheel:
The wheel is a circular component with a central shaft (axle) that allows it to rotate freely around the axle's axis. Its primary functions include:
Motion Transmission: When a force is applied to the wheel's outer edge, it rotates around the axle, enabling the transfer of linear motion into rotational motion.
Load Bearing: The wheel's structure and material are designed to support and distribute the load placed on it, allowing smooth movement over various surfaces.
Reduction of Friction: By using wheels, the friction between the moving object and the ground is significantly reduced, making it easier to move heavy loads with less effort.
Directional Control: Wheels can be attached to steering mechanisms to control the direction of movement in vehicles and other equipment.
2. Sprocket:
A sprocket is a toothed wheel designed to mesh with a chain or a belt, facilitating motion transfer between the sprocket and the chain/belt. Its key functions include:
Power Transmission: When rotational force (torque) is applied to the sprocket, the teeth engage with the links of the chain or belt, transferring motion and power from one sprocket to another.
Speed and Torque Conversion: Different-sized sprockets can be used to adjust the speed and torque of the driven component in a mechanical system.
Positive Drive: The teeth on the sprocket and the links on the chain/belt create a positive drive system, reducing the likelihood of slippage or loss of power during operation.
Chain/Belt Tensioning: Sprockets help maintain proper tension in the chain or belt, ensuring optimal performance and longevity of the power transmission system.
Together, wheels and sprockets form a vital part of mechanical systems, enabling efficient motion transmission, power transfer, and control in a wide range of applications across various industries.



editor by CX 2023-09-25